HOME | PHOTOS | EVENTS

MEMORIAL

| MIXOLOGY

| VIDEOS

| ARTICLES | CONTACT | LOGIN

| REGISTER


ANNUAL MEMORIAL WEEKEND OUT (MAY 26th - MAY 30th 2005)
The KENDA Ladies group & the greater Dallas, Texas Kenyan community abroad was proud to have presented the Annual Memorial Weekend Out.
Held once annually in the City of Dallas, TX for the past 5 years, this summer event "Memorial Weekend Out" attracts Thousands of Kenyans based overseas mainly from the USA & Canada. The event takes place during the Memorial Weekend Holiday (a public holiday observed on every last Monday of the last week of the month of May)
The motto "Bigger & Better" has always stood out as years passed by. This year, the Dallas Community hosted - Mega BBQ's, Bazaars (Mainly Food, African Clothing and Music & Video), Children's activities & sports tournaments.
Kenyan Food Delicacies & Music Entertainment was provided Courtesy of: The KENDA Ladies Group & the following Djs respectively:
Dj Topdonn (Chicago, IL),
KNY's Dj Oscar (Atlanta, GA), ,
Dj Papa, Dj Josh & Dj Xp (Dallas, TX).
For fast & easy directions, simply click on the direction links below to respective venues & input your current physical address location details i.e. where you are driving from.
Saturday, May 28th
Sunday, May 29th

Monday,

May 30th

Thursday, May 26th,9.00PM - 4.00AM

Pyramids Restaurant,
10601 Church Rd,
Dallas, TX 75238

(Afternoon - Sports & BBQ)
Time: 12.30PM - 7.00PM
Glencoe Park,
5300 Martel,
Dallas, TX 75206
Directions: HERE

(Afternoon - BBQ),
Time: 2.30PM - 9.00PM
Lake Lewisville,
2000 Main Street,
Lewisville, TX 75065
Directions: HERE

Monday, May 30th,
Time: 9.00PM - 4.00AM

Pyramids Restaurant,

10601 Church Rd,

Dallas, TX 75238.

Directions:

HERE

Friday, May 27th, Time: 9.00PM - Until
Queens Banquet Hall
1331 Plaza Drive, # 220
Garland, Texas 75041
Directions: HERE
.

(After Party) Time: 9.00PM - Until
Gannis Hall,
10925 Shady Trail,
Dallas, TX 75220
Directions: HERE

(After Party) Time: 10.00PM - 5.00AM
State Bank Of Texas Hall,
605 W. Airport Freeway,
Irving, TX, 75062.
Directions: HERE
Other affiliated USA Kenyan Communities Represented & Available online:
Telephone Lines:
214-693-4264 / 469-774-6648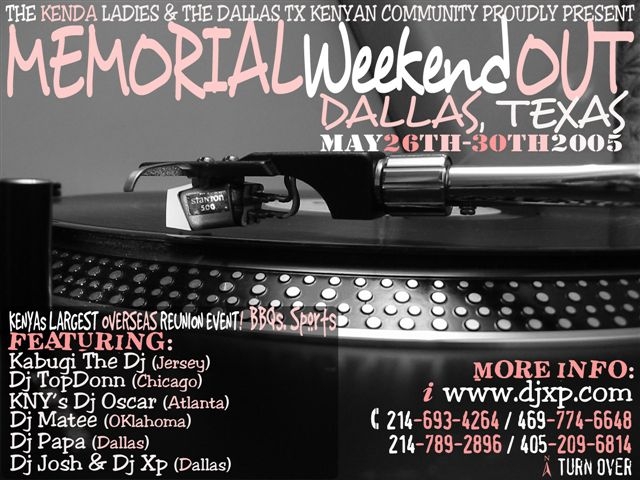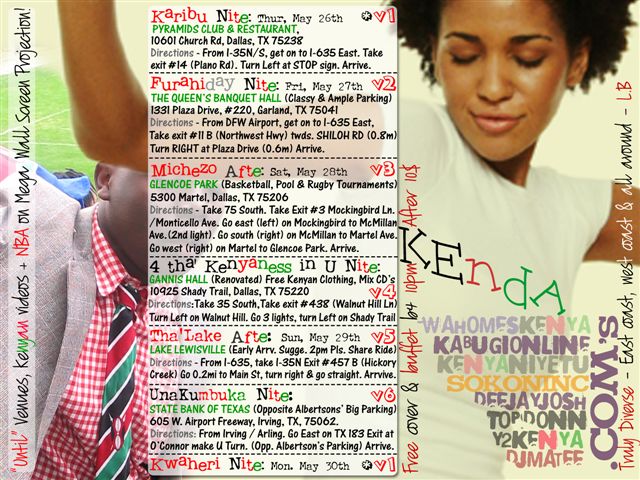 DJXP.COM 2002-2005 © BURUDIKA ENTERTAINMENT.